The Shriners Hospital Outreach Clinic in Lviv, Ukraine took place from December 7th through December 12th 2015 at the Lviv Regional Pediatric Clinical Hospital " OKHMATDYT  ." The outreach clinic was conducted as a joint effort with the Ministry of Health and the Lviv Region Department of Health.
A joint American – Ukrainian team of medical professionals worked together over the course of 5 days to evaluate 147 child burn victims  and perform 39 surgeries. The American team, led by Dr. Gennadiy Fuzaylov, included participants from Boston, St. Louis, and Michigan. Among them were 6 doctors and 2 nurses. The Ukrainian team was comprised of staff members from 3 Lviv-area hospitals.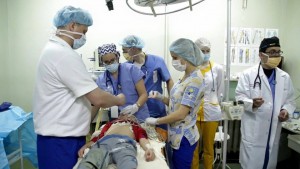 Doctor Fuzaylov also presented a lecture on child burn prevention at the 2015 Lviv Public Health Conference.
Work on this significant undertaking began 8 months prior to the clinic's start. More than 2.5 tons of medical supplies were shipped to hospitals in Lviv in advance. Support was provided by The Ukrainian National Women's League of America,  MEEST, Americare, and Shriners Hospital. Special thanks to Drs. Daniel Driscoll, David Brown, Justin Fernades, Justin Knittel, Avi Giladi, Valdemar Nadizhko, Myroslava Detsyk, Andriy Albokrinov, Bogdan Malyovannyy, Andriy Syniuta, Iryna Shchurovska, Vasyl Savchyn, and Debi Callahan and Whitney Knouse.