In September 2013, the DCTOHC team made its 4th annual journey to Lviv, Ukraine, for a 2-week clinic held jointly with local burn specialists.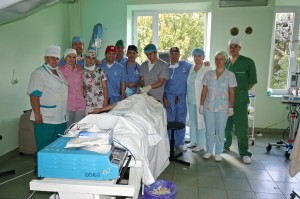 In this short time, we met with and evaluated 63 burn victims and performed 22 surgical procedures. Both new and returning patients were among the 63 participants. As a result of our evaluations, several burn victims will come to Shriners Burn Center Boston for treatment, others will continue treatment in Ukraine. These annual clinics have enabled us to provide state-of-the -art treatment to an ever-increasing number of individuals who have suffered burn injuries.
Below are video clips and a slideshow of our trip.